Are you interested in replacing or adding an odorization system to your natural gas network but not sure which system to choose? We are proud to offer several different Welker odorizer models to meet your needs and comfort level. You can count on these models to be safe and effective. Whether you need natural gas odorizers for a large-scale project or a portable option in case of an emergency, we have an option for you.
Ready to get started? Take a closer look at each Welker odorization system we have available.
Portable Odorizer
Welker's compact portable injection odorizer is your safeguard against emergency interruptions to operation. The Portable Odorizer provides temporary, time-based odorization for flow rates up to 6.5 MMscfh and pipelines with a maximum operating pressure of 2,000 psig.
When your primary odorizer is down, time is of the essence. Connect the POC quickly with minimal effort using the flexlines with quick-connects. No auxiliary gas is required; use unodorized upstream gas, which is conditioned by the Welker F-19 Filter Dryer, to supply the pneumatic timer and apply blanket pressure to the customer-supplied odorant supply tank.
Mounted on a two-wheel hand truck, the POC has a relatively small footprint, which allows it to be stored when not in use. Made from strong, lightweight, and rust resistant material, the hand truck can be easily navigated across bumpy terrain without looking any worse for wear. A foldup step provides a convenient platform for the customer-supplied odorant supply tank, keeping system connections short for optimal operation.

Accu/Line™
The intuitive touch screen controller is the brains of the operation. Receiving feedback from the customer gas flow meter and system odorant flow meter, the controller adjusts the injection rate to changing flow conditions, ensuring continuous proportional to flow odorization. Measuring every pump stroke volume to an accuracy of 0.002 cc, the system odorant flow meter guarantees precise odorant injection.
Monitor and troubleshoot the Accu/Line™ on-site at the touch screen controller or remotely via Modbus to ensure optimal system performance. Access time- and date‑stamped historical records saved to the installed microSD card for accurate reporting, planning, and scheduling.
Improve system responsiveness to variations in flow rate with two odorant injection pumps of different volumes, or limit interruptions to operation with identical redundant pumps. The Welker F-9 Filter and Welker F-5 Filter Dryer prolong the operational life and reliability of the pumps by removing contaminants from the odorant and pneumatic supplies. From 5 gallons to 10,000 gallons, the odorant supply tank can be sized to suit a broad range of flow rates. Regardless of volume, each tank comes with 110% containment sloped to the drain to protect against contamination and ease clean up.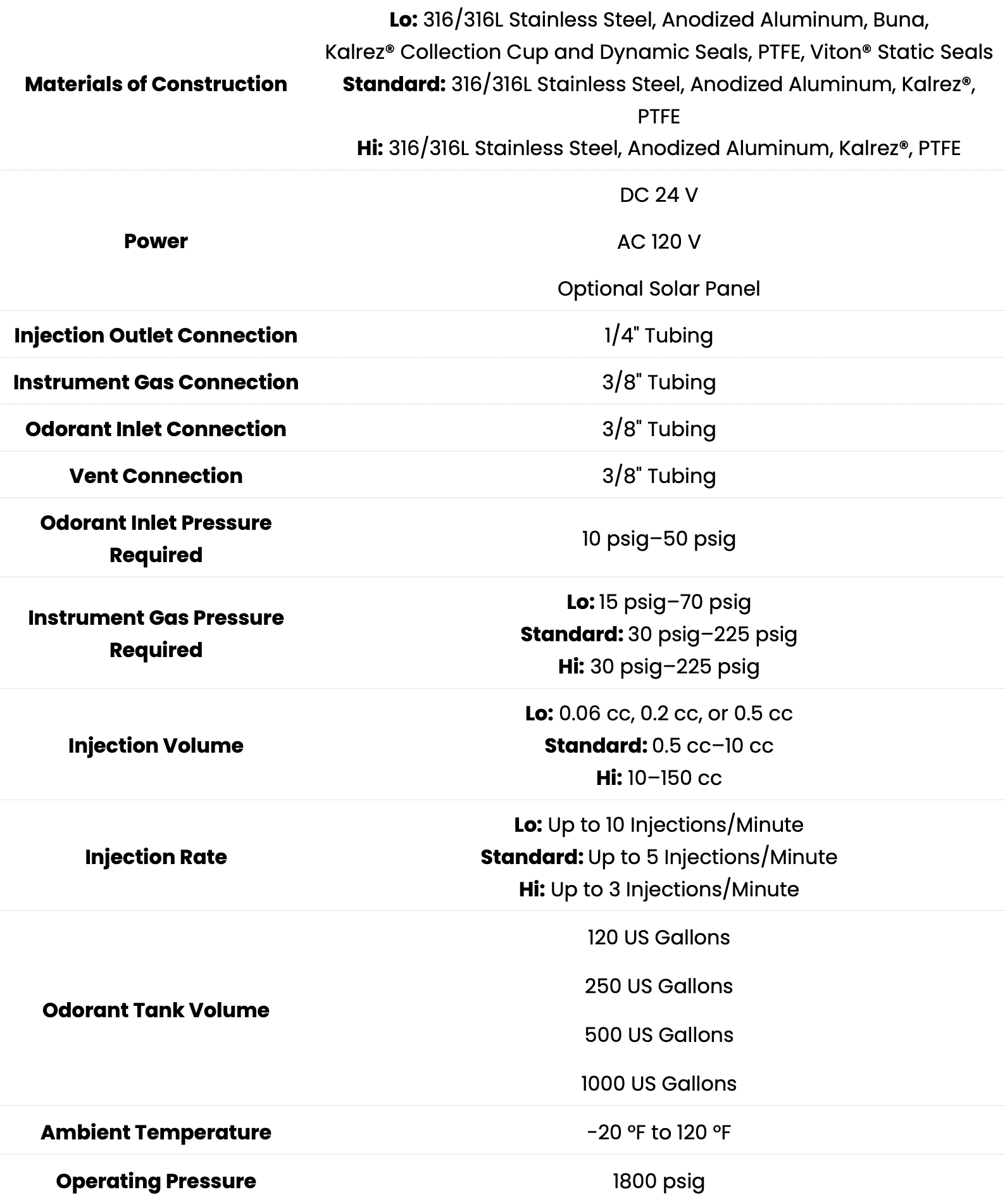 PulseInject™
Welker's patent pending pumpless, pressure-driven odorant injection system is a complete solution for proportional to flow odorization for flow rates from 25 Mscfh up to 8 MMscfh and pipelines with a maximum allowable operating pressure of 1480 psig.
Welker's innovative new turnkey odorization system ensures consistent odorant injection without the use of a pump. Like our automatic pumpless vapor injection system, the PulseInject™ uses differential pressure and solenoid operation to odorize your natural gas line, but it adds the real-time liquid odorant measurement of our standard injection system, allowing the Programmable Logic Controller (PLC) to continue proportional to flow odorization when flow conditions change.
Without odorant pumps, the PulseInject™ is a low maintenance injection system. The flow of conditioned unodorized upstream gas through the system is managed by solenoid valves controlled by the PLC. The Welker F-9 Filter on the odorant line and Welker F-5 Filter Dryer on the gas line remove contaminants, prolonging the operational life and reliability of the solenoids, and identical redundant solenoids limit interruptions to operation.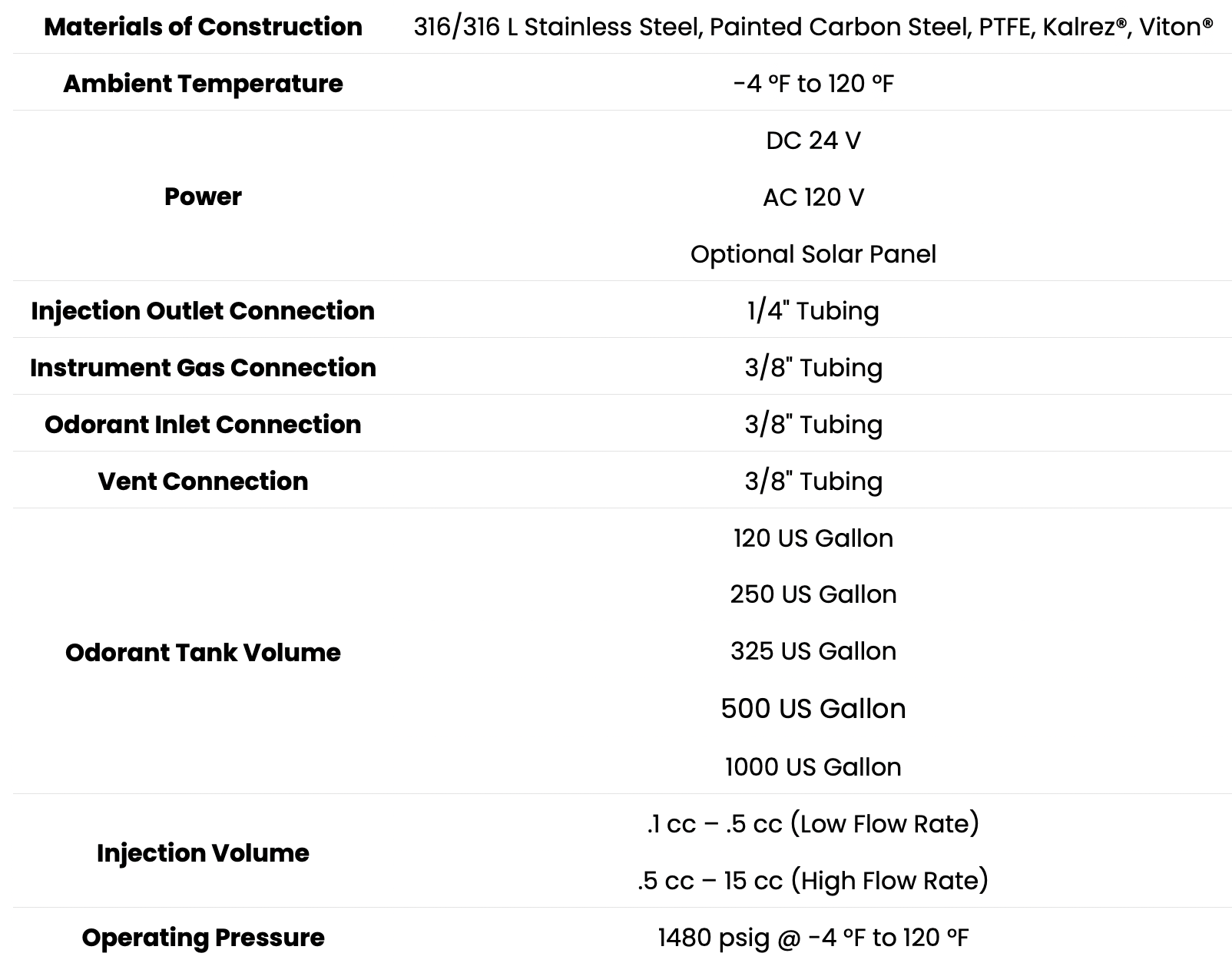 ECOsystem™
The Welker ECOsystem™ Automatic Bypass System supersaturates carrier gas in an odorant tank to properly odorize natural gas pipelines. Our design uses differential pressure to odorize your gas line while minimizing moving parts and maintenance on the system. Since odorant is vaporized before infusing with the gas, it bonds more effectively than when injecting odorant in liquid form. Once the system is installed, you can remotely monitor the odorant level, actions performed, and warning alarms by interfacing with the included Programmable Logic Controller (PLC).
Traditional bypass odorizers are a thing of the past. Using modern technology, the ECOsystem™ eliminates the need for manual valve operation while also ensuring precise proportional to flow odorization. The incorporated Programmable Logic Controller (PLC) receives output from the flow meter on the pipeline and the system flow switch and adjusts the odorization rate accordingly. As seasonal and environmental factors impact the gas flow rate, accurate proportional to flow odorization continues—no crude valve adjustments required.
Monitor the ECOsystem™ on-site at the intuitive touch screen controller or remotely via Modbus from the comfort of the control room. With the PLC's real-time tracking capabilities, current system performance data is always at your fingertips. Time- and date-stamped audit data and alarm history are logged to a microSD card and can be exported to a CSV file for accurate reporting, planning, and scheduling.
Features
Properly odorizes gas pipelines with supersaturated carrier gas (vaporized odorant)
Reduces maintenance with fewer moving parts
Automatically adjusts injected odorant to match flow rate
Remote monitoring and communication with Ethernet, Modbus, or cell/phone modem
Audit data is constantly backed up to an SD memory card